Hispanic Heritage Month is being celebrated this month all around the United States through a series of activities, programs and festivals in recognition of the contributions Latin Americans have made in this country. Originally a weeklong celebration initiated in 1968, President Ronald Reagan later inaugurated it into a month-long celebration. Though its official dates are September 15th (marking the Independence of 5 Latin American countries) through October 15th, many initiatives are planned in anticipation of.  For me, there's no better way to celebrate our rich heritage than through food — the crux of every home. I toyed with different ways of honoring this month's celebration and decided it was most fitting to look at different Latin American (or Hispanic) foods. I was really eager and excited to share with you food not my own but that I'd equally love. After all, Latin America is made up of 20 countries, all bearing exotic historical background, distinct traditions and food–yes food! No two countries have the same cuisines. That's the beauty of this massive group of people. 
Starting today and lasting all week, we'll be looking at food from Brazil, Peru, Dominican Republic, Puerto Rico and Mexico, through a series called "All Around Latin America." Each day will offer an enticing sneak peak into that country's soulful cuisine to get you excited about exploring more for yourself! 
First up in Emme Ribeiro, the author behind the blog Food Samba. I first had the pleasure of meeting this young but bubbly gal in NY during a cooking competition. Being the only two Latinas representing, we instantly hit it off. Emme was passionate about her food and brought her Brazilian fare to the table. When thinking of the 5 bloggers I wanted to introduce you to, Emme was on the top of the list. She brings skill to cooking, having been on Master Chef. Born in Brazil, raised in Seattle, she's a confessed foodie who combines the best of both worlds to create a unique and exotic culinary experience. Through her food blog and family's local Brazilian restaurant, she  hopes to spread the knowledge of the Brazilian culutre and cuisine! 
Please welcome Emme as she kicks of this week's delicious look at Latin American food! -Bren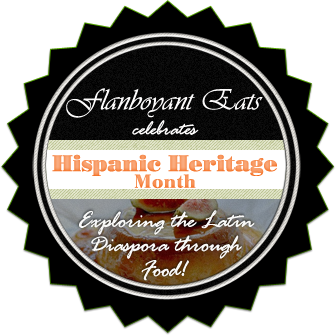 By Emme Ribeiro
When Bren asked me be a guest on her blog, I was delighted! And, when she further explained that she wanted me to share with her readers a dish that represented me and my birth country, Brazil, I was even more excited!
It was a no-brainer when I chose to share with you all Feijoada, dubbed "The National Dish of Brazil!" Now, before I get into describing this national dish, I have to tell you a very important piece of information about Brazilian cuisine.  Brazilian cuisine is very diverse and it varies greatly by region.  This diversity is even present in the country's national dish. For example, Rio de Janeiro, feijoada is made with black beans and in Salvador it is typically made with feijão mulatinho, pinto beans. Nonetheless, today I bring you what some might consider the 'most popular' version of feijoada, Rio's black beans version served rice, couve( thinly-sliced collard greens sautéed with butter, garlic and bacon), farofa  (manioc flour sautéed with butter,  onion, garlic and bacon) and orange slices!
The concept of feijoada was brought over to Brazil by the Portuguese. The Portuguese version being a bit more sophisticated,  made with white beans and vegetables such as carrots, cabbage etc.  During that time, the slaves had only access to rice and black or pinto beans. Sometimes, they were allowed some less-desirable cuts of meat (pig ears, feet, etc.) and would cook it along with the beans in a clay pot, creating the Brazilian feijoada.  This rare treat of meats made it so that feijoada was the "luxury" dish that the slave's would enjoy from time to time. Over a period of time, it became a popular meal among the lower class and eventually worked its way up society to become the "national dish".
There is no recipe set in stone for feijoada. Like I mentioned before, it varies by region, but also by household! Everyone thinks his or her mom's feijoada is the best one! I would love to share my mom's feijoada recipe with you all, BUT she would cut my fingers off for typing away the secret recipe that makes her "the queen of feijoada" in Seattle!  So, I'll be sharing with you my adapted version of her recipe – and if you live in Seattle or plan to visit in the future you could always come taste mom's feijoada at our family restaurant.
*images c/o of Food Samba with exception of series badge. 
Eat well, love unapologetically, pray with true intention, and take care of yourself.
Follow the sexy & delicious fun on
TWITTER | FACEBOOK | INSTAGRAM | GOOGLE+ |YOUTUBE
Don't forget to check out my debut cookbook!
Enjoy
BRAZILIAN FEIJOADA
Ingredients:
2 tbsp vegetable oil
1 yellow onion, chopped
4 garlic cloves, minced
1 cup Italian parsley, chopped
2 bay leaves
1lb Linguiça sausage, sliced ¼" thick
½ lb smoked hamhocks
1 lb pork belly, trimmed of skin and cut into 1" cubes
1lb beef for stew, cut into 1 ½" cubes
2 pigs' feet, halved lengthwise
Salt
Black Pepper
2 lbs dried black beans, picked through and rinsed
2 ½ quarts of water
Method:
In a large heavy-bottom pot, over medium heat add oil. When oil is hot, add onions and sweat until onions are translucent. Add garlic, parsley and bay leaf and sauté for about 4 minutes. Add sausage and cook until browned, about 5 minutes. Add hamhock, pork belly, beef and pigs' feet and season with salt and pepper. Add beans and water.
Bring liquid to a boil, reduce the heat to medium low and simmer until beans are tender, about 2 ½ hours – Skim any foam that rises to the surface while cooking and add more water if necessary to keep the ingredients covered while cooking.
To serve, spoon some rice, collard greens and farofa onto each serving  plate. Laddle the feijoada over the rice. Garnish with a slice of orange.
Cook's note: Don't forget to add some hot sauce onto your serving of feijoada for an extra kick!