Our {All Around Latin America} series continues this week with a different style story! Today we highlight and review a quasi-posh nouveau Cuban restaurant in the nation's capitol. As part of our 2-week Hispanic Heritage Month celebration, I found it fitting to share with you an experience I've not been open to until now — eating Cuban food out. Find out why I was intrigued! B-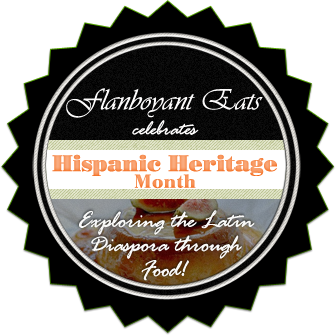 By Bren Herrera and David Hall
I have this great gift of coming up with certain ideas that get to be realized… by someone else. I've stopped counting the amount of amazing projects I've designed in my mind and sometimes on paper, all for someone else to beat me to the punch, but always two years later. When I was invited to eat at Cuba Libre recently, I had that "here we go again" sensation. A two-year old Cuban restaurant in the heart of D.C., Cuba Libre's offering is not your traditional casera food you'd find at my house or any Cuban's house in Miami. The kitchen is run by an Argentinian chef. That's the first telling sign of an untraditional approach. And, he's taken the old school concept of a paladar and made it into a chic, modern experience, by offering pop-up dinners designed by young chefs he's personally invited from the island.
In Cuba, paladares are now typical home-based restaurants with a new twist that began evolving on the island in the early to mid-eighties.  Paladar means "palate" in Spanish, and in Cuba, few are fortunate enough to transform their private home into a restaurant business for tourists and some elite nationals to enjoy. There's no doubt it's an  intimate and delicious way for tourists to taste their way through the island, mostly in Havana. Chef Pernot's appreciation for the model comes to life in a quarterly cooking series of "pop-up" dinners in La Galeria, the restaurant's private event space.  Since it's launch earlier this year, Pernot has twice showcased a Cuban chef whose purpose of visiting the United States is to create a special menu using the home chef's  vision.
Visiting chef Alain Rivera Santana of Doctor Café, a quaint restorante located in the residential neighborhood of Miramar — very close to where my Tia resides — is considered  a 'hidden gem'  best known for his use of charcoals. Chef Santana strategically designed a nouveau menu for the evening,  replete with unconventional ingredients like grapefruit and sorbet. The 4-course menu was crisp and light throughout,  starting with Merluza al Escabéche, a fresh cod in vinegar-chile sauce with lamb tongue and beet salad. A spin on the very popular bacalao dish, this appetizer had an Italian appeal while trying to maintain some familiarity. It was a great combination of European flavors and Cuban style, the latter being a huge influence in the island's cuisine (though predominantly French).
(Merluza al Escabéche)
The canelones de cangrejo, an updated attempt at the popular tamal, unfortunately lacked any inspiration from the true corn roll-like dish.  The fresh  pasta cannelloni with sweet crabmeat enchilado filling was interesting but more Mexican in style than even Caribbean. Guests seemed to really enjoy it as  my table mate politely asked to devour my share. Gladly.
The main course, a lightly charred atún (pictured above), or grilled yellow fin tuna, with a thin pool of Malta honey reduction underneath a taro root purée, and accompanied  with ruby red grapefruit and lavender supremes, was a stellar delight and the best example of taking those known and beloved ingredients easily found on the island (well, if you have USDs or know how to hustle) and repackaging them into a chic version of a good fish entrée. I found the mix of Malta, a very acquired taste malt beverage, with a white fish to be unpredictable and mildly genius.
(L-R, clockwise: Grilled grapefruit for grilled atún, Merluza escobeche, Pisco, mango soup, Menu, canelones)
We finished off the formal dinner with the night's hit star: Sopa de mango. This chilled mango soup, with Cuba Libre's homemade five-year-old rum ice cream caused silence for 10 seconds followed by "¡Oye, te quedo tremendo!" and "Pero de donde salio esto?" and "Esto si es genial y los mas rico de toda esta noche!"  A dessert option definitely not available in Cuba or even at your most popular Cuban restaurants across Key West, the use of mango and rum ice cream hit a nostalgic note and made perfect culinary sense.  It was light, bright and smooth.  A fantastic way to clean the palate one last time before el cafecito.
Chef Guillermo Pernot is married to a cubana and has visited the island enough to  fall  in love with its cuisine and share his interpretation of all he's seen and experienced. However, his idea of Cuban food  goes beyond his comprehension of Latin technique. His approach at Cuba Libre is refreshing to anyone that knows food at its core. His skill is in fusing that basic technique with modern flavors and more refined plating styles. While the exterior design and interior decor is reminiscent of Old Havana, as you would see at El Patio,  an al fresco restaurant to your left when facing La Catedral de la Habana, the food is far from anything an abuela would teach you. No arroz congri with bacalao or arroz blanco con frijoles negros y picadillo at your table at Cuba Libre.
Beyond the merits of masterfully recreating a physical ambiance reminiscing of the grandiose yet intimate atmosphere La Habana Vieja regaled visitors during the "amazing 50s" -when both Hemingway and Lansky were regulars- the pop-up dinners concept developed by chef Pernot takes the Cuban experience to a whole different level, as far as dining is concerned.
Older Cubans from Flagler to Bergenline may find it more difficult to appreciate Pernot's creativity, as old habits die hard. But a middle-aged couple from Miami attending the second Pop-up Paladar showered him with incessant accolades, which may be a harbinger for success beyond expectations.
Yet, in a cosmopolitan city as Washington, D.C., where eclectic tastes are as ubiquitous as political intrigue, Cuba Libre and its Pop-up Paladares is well on its way to making its mark and leaving an indelible foodprint.
(Chilled mango soup)
The next "pop-up" dinner is in the planning stages now and slated for an evening in January 2013.  Two seating options are available, one at 6 PM and another at 8:30 PM.  Each of the featured dinners is priced at $45 per person (beverages, tax and gratuity not included), and is reserved for 40 guests in the private event space.
CUBA LIBRE
801 9th Street, NW, Suite A (Corner of 9th & H Streets, NW)
Washington, DC 20001
(202) 408-1600 or visit www.CubaLibreRestaurant.com
*this post is part of private media visit I enjoyed to Cuba Libre. Dinner was complimentary. However, I was not compensated for this review and all of the opinions are honest and my very own.
[Rating: 3.5/5]
Eat well, love unapologetically, pray with true intention, and take care of yourself.
Follow the sexy & delicious fun on
TWITTER | FACEBOOK | INSTAGRAM | GOOGLE+ |YOUTUBE
Don't forget to check out my debut cookbook!