I particularly love today's feature in "All Around Latin America!" Brought to us by my new and super inspiring friend, Eva Smith, tamales are one of all-time favorite foods. I stay away from making them because they're so labor intensive, though worth every minute. More importantly, she brings to us a bit of Mexican history and flavor — one of my most favored cuisines and culture. 
Eva lives in Southern California. An IT architect by trade, in her free time she's an avid baker, aspiring gourmet chef and enjoys writing and learning about people, food, and technology. She blogs at Tech.Food.Life.  Please help me welcome this multi-talented foodie! – Bren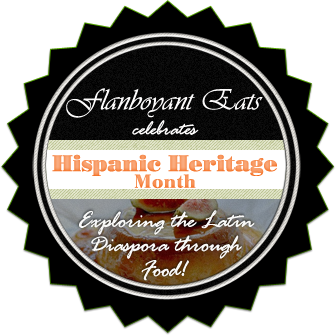 By Eva Smith
The history of Tamales in Mexican culture goes waaaayyy back. Tamales mean "wrapped food" and is derived from the word tamalii from the Nahuatl language spoken by the Aztecs.    Tamales originated in Mesoamericas early as 8000 to 5000 BCE.   There is reference of tamales in history as well.   In the 1550′s, the Aztecs served the Spaniards tamales during their visits to Mexico.  In addition to Aztec history, there is reference to tamales being served as a "portable" food in Maya, Olmeca and Tolteca culture.  In our family, Tamales are a beloved traditional food.  We make and serve Tamales to celebrate special occasions such as Christmas, Easter, Birthdays, big events or to welcome new neighbors.
My mother grew up in a small village in Mexico D.F., the capital of Mexico, where cooking was a tradition and a career for her and her family.  I remember my mom making tamales as a small child in Mexicali.  My mother, grandmother and tias would spend the entire day preparing the food, singing and talking about the weeks events, gossiping, sharing advise and celebrating family.  She was raised in a very traditional home.   I  remember the smiles on their faces and their laughter as if it was yesterday.  As I became older, the tradition was passed on to my siblings and I as well.  The tamale recipes are also passed on to each generation as well. Each year we seem to refine the process, making the recipes better and preparing them quicker.   We all take turns in a growing assembly line of family members to prepare delicious tamales.  Our family gets bigger every year and so does the love for our food, family, heritage and culture.
Our family has  several tamale recipes: jalapeno cheese, mixed-vegetable, olives, chicken mole, chicken with red chile, chicken with vegetables, beef,  green chile, sweet pineapple, sweet raisin tamales.  The filling is what makes tamales unique and all are delicious.  Our recipes always use corn-husks.  However, some cultures use plantain leaves or banana leaves which are just as savory.
My favorite tamale recipe is the Chicken-Pasilla recipe.  So light and fluffy, I could eat these tamales everyday of the week.  Tamales are a comfort food that reminds me of my childhood and my love of family & heritage.
* pictures courtesy of Eva Smith.
Eat well, love unapologetically, pray with true intention, and take care of yourself.
Follow the sexy & delicious fun on
TWITTER | FACEBOOK | INSTAGRAM | GOOGLE+ |YOUTUBE
Don't forget to check out my debut cookbook!
Enjoy
MEXICAN CHICKEN-PASILLA TAMALES 
Ingredients:
2 whole chickens boiled and shredded
8 lbs prepared masa
2 teaspoons baking powder
2 to 3 packages corn husks soaked in hot water for 1 hour or overnight
2 1/2 lbs tomatillos
2 1/2 lbs  fresh pasilla chilles
3 to 6 jalapeños
8 large garlic cloves roasted
1 large onion cut into small chunks
4 to 5 teaspoons sea salt, divided
Method:
1. Place tomatillos, pasilla chiles and jalapeños on a foiled-lined baking sheet or broiler pan. Set under broiler, turning once until dark on both sides.
2. Tranfer pasilla chiles to a zip-close plastic bag and seal closed. Let chiles steam in bag for 15 to 20 minutes. Skin and seed pasillas, cut into thick strips and set aside.
3. Place tomatillos, jalapeños, garlick, onion, and 2 teaspoons of the sea salt in a blender. Pulse 8 to 10 times to combine. If sauce is too thick, add one teaspoon of water as needed. Add more salt, if necessary to taste.
4. Measure and set aside 1 1/2 cups of tomatillo sauce. Place remaining sauce in a large mixing bowl. Add chicken and pasilla chiles and mix well.
5. Combine masa, remaining 2 to 3 teaspons sea salt, baking powder, and reserved tomatillo sauce in another bowl. Stir until completely blended.
6. To assemble tamales: Drain cornhusks, remove and red corn silk, and stack. Lay 1 cornhusk flat, smooth side up. Place about 3 tablespoons of masa mixture on the bottom half of the cornhusk and smooth with the back of a large soup spoon. Add 1 to 2 teaspoons of tomatillo-chicken filling in the middle.
7. Locate the long side with a 2 inch space with no masa. Fold that over, slightly overlapping the other side so the edges of the dough meet. Wrap the extra husk around the back. Then fold the broad end over the top and then the longer narrow end over the broad end.
8. Create strips of husk by cutting or tearing 1/4 inch lengths off of some of the smaller or unusable husks. Use these to tie across the middle of the tamales to hold the flaps down.
9. Set tamales upright in a steamer. You can buy large steamers made just for this purpose. You may have something else you can use to create the same effect. The key is to have a small amount of boiling water on the bottom of the pot and a colander or mesh of some sort to keep the tamales away from the water.
Let Simmer for about 90-120 minutes.
Serve warm & with love.
Buen Provecho!