As you know, I typically do #FlanFridays today, but this week has been lots of fun looking at food from other Latin countries as shared by some of my friends. Last, but definitely not least in this week's series of "All Around Latin America," a look a different foods and culinary cultures through Latin America in celebration of Hispanic Heritage Month, is from my cyber friend, Madelyn. I can't recall how we met, but she's always intrigued me with her vegetarianisms! 
Mady, as I call her, is a lacto-vegetarian and lives in San Juan, Puerto Rico.  She became a vegetarian after practicing Yoga seriously 10+ years ago and over the years, she developed an increased appreciation for cooking and developing recipes.   For her, being vegetarian goes beyond just not eating meat or animal products.  It has to do with having the most natural and organic lifestyle possible – avoiding soft drinks, chemical additives and medications, canned foods, or foods cooked a long time ago, among others.  See why I was intrigued! I'm surprised she reads and supports my blog! I'm just about everything she's not about. But, she's a true Latina and one passionate about her cultura. 
Madelyn pens Karma Free Cooking, where she shares how to live a vegetarian and healthy life! Visit her blog and please help me welcome Mady! Bren-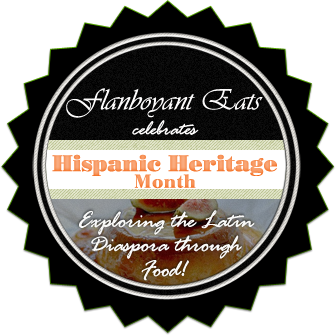 By Madelyn Rodriguez.
Vegetarian Boricua???
Some people believe the adjectives Puerto Rican and Vegetarian could never go together… an oxymoron of sorts.  I can even understand a bit why some people might believe that.  I come from the land of "lechón asao' a la varita", "bistéc encebollao'", "arroz con salchichas" and "mofongo con mucho, mucho chicharrón".
Who, growing up around all that, would ever decide to be vegetarian??  Well, let me introduce myself… I am Madelyn and I am a Puerto Rican Vegetarian.  Not a figment of anyone's imagination, but a healthy driven woman who stumbled upon vegetarianism by pure serendipity.   Nothing planned… nothing schemed… just fate, destiny and a little bit of karma, doing their thing…
But in true testament that Puerto Rican blood is running thru my veins… I love my frituras.  Most of Puerto Rico's culinary calls to fame are fried foods and one of my favorite are Bacalaítos.  Crispy and greasy, the perfect snack after a day of sun and sand at Balneario de Luquillo or at Fiestas de San Sebastián.
And time has taught me the true, real flavor in bacalaítos comes from the seasoning in the batter, not the salted codfish… that's how my BacalaFREEtos came to be – great to make before going out where real bacalaítos might be present, to avoid any temptations.  Check them out.
I'll be honest, I have never measured the amounts of the seasoning… but the batter should taste well-seasoned.  You need it to taste like something, not just like wet flour.
I don't know if you have ever tasted a real bacalaíto or not, but even if you have, these Bacala-FREE-tos won't disappoint.  Salty and crispy just like the originals.  The batter is extremely versatile as you can also use it even to fry eggplants.
Hope u like it as much I do…  And thanks to Bren for allowing me to share this wonderful bite of my little Island with all of you Flanboyant Eats readers…
(A friotelra  in Puerto Rico making real bacalaitos)
*all images courtesy of Madelyn Rodriguez
Eat well, love unapologetically, pray with true intention, and take care of yourself.
Follow the sexy & delicious fun on
TWITTER | FACEBOOK | INSTAGRAM | GOOGLE+ |YOUTUBE
Don't forget to check out my debut cookbook!
Enjoy
 BACALA-FREE-TOS
Ingredients:
½ cup whole wheat pastry flour – this will work well with spelt flour too
About equal parts of water
1 tbs sofrito
½ tbs of Kosher Salt
½ tbs of Pepper
Canola oil to fry
Method:
In a large skillet, heat about 1 ½ inches of canola oil.  Make sure the oil is very hot before frying the first batch.  Try inserting the back end of a wooden spoon into the oil and the oil will be ready when you see bubbles around the wood.Using a large spoon or ladle, pour some of the batter into the oil, like making silver-dollar pancakes.  Wait until the batter has set a bit on the first "bacalaíto" before you pour on another ladle.  If they fuse to each other, they'll be difficult to turn.Fry on one side until the batter turns crisp and golden brown on one side.  Flip and fry some more until evenly golden.Transfer the fritters onto a plate with paper towels to drain the excess oil.