'An usual spot for the best steak house in all of America' is what I thought as I stared out my hotel room across the street unto the bleak parking lot at Bern's Steakhouse. It was suspicious and just odd-looking. But I was staying at a new hotel, coincidentally a food and wine themed boutique spot, that was owned by the famed restaurant. And the hotel was super sexy, super chic, and all around fly. So it only made sense that the restaurant across the street had to be good. It was just a matter of old country placement fighting new and modern construction. Surely that was it as I shut my curtains in my room at the Epicurean Hotel (review on that coming next week) and got ready for dinner across the street.
That bleak and unassuming parking lot is the typical set up: keep your expectations real low and then super-bam you. I walked in to what cloud have been Liberace's entertainment hub. Or mini palace. The starch white stucco exterior does not suggest or even give you any indication that your entrance is dark, sultry, and somewhat gaudy with candelabras and busts greeting you, or at least one hundred hungry guests begging for their names to be called for seating.
Fortuantely, I was there to dine with some of 'Who's Who' of Tampa and was quickly whisked away to a the main dining room of the the 58-year-old restaurant.
Our waiter, whom has gone through extensive training — some time on their family farm, some time at each station in the kitchen, then clad in a burgundy bow tie to ID his level and finally a full-out, all-knowing waiter — quietly but aggressively took us to the "media" table where New York Time food lovers and the likes have sat to critique the food. As quickly as he seated us, he pulled out the massive wine list and asked us to choose. More than 100 pages of wine options was not going to make my night pleasurable so each one in our group passed on drinking, but if you do, you'll be encouraged to choose your option before anything else so the can air, decant, and enhance the flavor of your wine. It's important, you know. Details like that matter.
Before I could even look around and make sense of the laid back opulence, our young waiter whipped open the dinner menu to which I just sunk in my chair in reaction to. It was overwhelming. Okay, so I've heard of Berns's but I'd not really heard of Bern's. It's a classic steakhouse by name and by proper attribute of true beef-aging methodology, but they have it all. From a lovely seafood menu offering more than 15 kinds of oysters to a beautifully divine caviar menu which deserves its own book. And cause you to spend close to $200.
I gave him my dietary restriction to which he obliged and then our feast began.
I've been to many, many steak houses, as I suspect you have, but the process here was just different. I was in no real mind to analyze, so I trusted his expertise and let him just feed me. Probably a bad idea but his pickings shamed me.
But I first shamelessly attacked the beautifully vibrant Vichyssoise soup as part of the tasting option which gives you a demitasse size of each: French onion (2nd best I've ever enjoyed), lobster bisque, and the Vichyssoise. Both were so sexy, the picture doesn't do it justice. The Vichyssoise with black truffle crème fraîche was creamy to perfection but not overpowering with the additional white truffle oil infusion. And while the size was just a tasting ration, a full bowl would have still allowed room for the mammoth steak.
From the appetizer or starter menu, the sushi grade salmon with caviar was delicacy at its finest. It was a surprising pairing of Sunday morning home breakfast with the mini grilled waffle juxtaposed with French elements of plating and technique. Perfection.
Of all the other side offerings, the mushrooms are a must-have. Meaty like their steaks and wildly flavorful. If you're not a steak eater (not sure why you'd be there), you can definitely enjoy a similar reaction with the 'shrooms. Just couple them up with some of white truffled mac and cheese and their Ceasar salad.
But that's it. The portions are too big. Every bite is delicious, but it's a lot.
And then I went in for the kill on my steak. I couldn't eat it all but I earnestly and in good faith nibbled here and there on my 80z $50 Delmonico steak which was juicier than the most succulent mango you've ever had. I opted to top mine with a reduction glaze and lovely onion rings .
The steak melted on my fork live I've never experienced before. But it was just too big. I had to save the rest.
It's not because I was invited to dine there or because I'd just done a live cooking segment on ABC's Positively Tampa Bay, but the service was spectacular. After you eat a meal worthy enough for the President and FLOTUS's anniversary, you can take a kitchen tour. Prepare your mind to be stimulated to the max. I hopped on the band wagon and did a private lasting 30 minutes. From the sautée line, to visiting with the "Fat Dude" whose name is derived from his job — to take the extra fat trimmings from the steaks and put them in huge bins to be wheeled to another elusive side of the kitchen — to the skinny man who machine-slices but hand batters each and every super-sized onion ring, you get a real view of the madness that dishes out divines. It's a serious operation.
They even grow their own micro greens.
But all the fanciness and NY-style operation they have going on, the key ingredient at Bern's is their integrity in aging their beef. Aged anything is better, seriously, but a beautifully broiled rib eye (cooked with hardwood charcoal instead of super-convenient briquettes) which has aged for 8 weeks is screaming spectacular. I couldn't finish my own steak, but it turned to be a great lunch option the next day. I really wouldn't recommend that, but at $50, you may want to eat that someway, somehow.
I can't tell you how many steak options they have. It's too many for any normal person, even the most refined food critique to memorize. But they help you understand their madness. Their 10-page steak menu (yes, just the steaks) offers every bit of information on steak you need to know. I'll help you out and share one of their guides… good luck…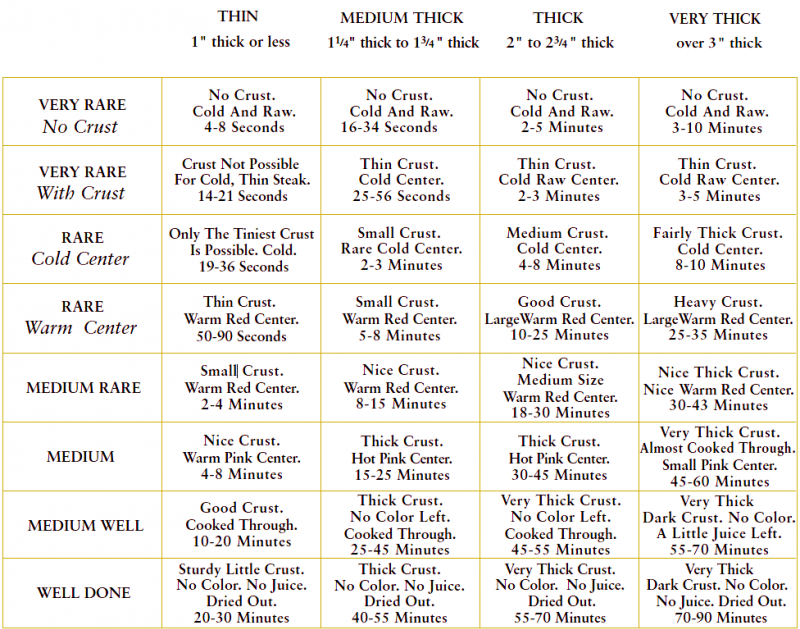 As if sitting at the New York Times and caché-named media table weren't enough for me to be happy with, just try entering the Harry Waugh Dessert room. But only after you've visited their wine cellar, the largest in the entire US, boasting over 500 thousand bottles of wine and their most expensive pour, coming from a 30 year old bottle of something I can't pronounce. Shame on me.
But back to desserts. The  upstairs dessert room is a throwback. It's dark. It's really dark. And it's sexy. But a different kind of sexy. Not the kind you envision with glitz and glam or clean lines and perfectly coiffed seating. IIt's sexy from the low lighting, the vintage appeal in each of the 58 private booths with a modern jukebox playing Sinatara or Ludacris and the history. It's whimsical. Order coffe, or Cognac, or even a flan, after all, you are near Ybor City. My only piece of advice. Don't order a café con leche. If you do, make sure you ask for it triple strong otherwise….
I passed on dessert, too, so I can't tell how good, fabulous, or stand they are. I suspect they're played down from the fineness of the dining rooms.
I'm thinking that bleak parking lot is intentional. It's just not attractive and speaks to just a blank and opaque space of nothing. Until you enter. Behold, your steak dining experience will never be the same.
  *Interior and steak chart images c/o of Bern's; All others courtesy of my and my friend's iPhone! 
BERN'S STEAK HOUSE
208 S Howard Ave.
Tampa, FL 33606
813. 251.2421 or visit www.BernsSteakHouse.com
Appetizers: $13-$175 (caviar); Dinner: $18 – $60; Desserts: $8-$12; Cocktails: $8-$20
Follow the sexy & delicious fun on TWITTER | FACEBOOK | INSTAGRAM | GOOGLE +
[Rating: 4.5/5]
Eat well, love unapologetically, pray with true intention, and take care of yourself.
Follow the sexy & delicious fun on
TWITTER | FACEBOOK | INSTAGRAM | GOOGLE+ |YOUTUBE
Don't forget to check out my debut cookbook!